Fun Easter Decoration DIY
What is a holiday, if not an opportunity to decorate your house to the brim in festive decorations? To help you make the most of this Easter holiday season (and keep the kids entertained!), we've created this fun and easy Easter decoration for you.
We've created printable templates for you, so there's no need to struggle perfecting your carrot and bunny designs!
Once you've printed your template designs, you can go ahead and carefully cut them out. Younger children might need some help with this part. Tip: be extra careful when cutting around the trickier details (i.e. bunny ears and carrot leaves) because you might accidentally snip them off!
Now that we have our templates cut out, we can use them as stencils to transfer the designs onto thick paper. This step is optional, so if you don't have thick paper (such as craft paper) at home, you can also simply use the printed templates! However, we decided to trace the templates onto 400g acrylic paper because this material is thick and holds paint well. Tip: to keep the templates from moving whilst you're stenciling, use a bit of adhesive putty to keep them in place!
You can decide how many bunnies and carrots you want to trace, depending on how long or short you want the length of your bunting to be. We traced 4 bunnies and 4 carrots to create a bunting length of approximately 1 metre (enough to cover one window). Once you've finished tracing, you can decide what colours you want to use, and start painting! If you're not using thick paper, you could also use coloured pencils, crayons or markers (bonus: this might mean less mess!).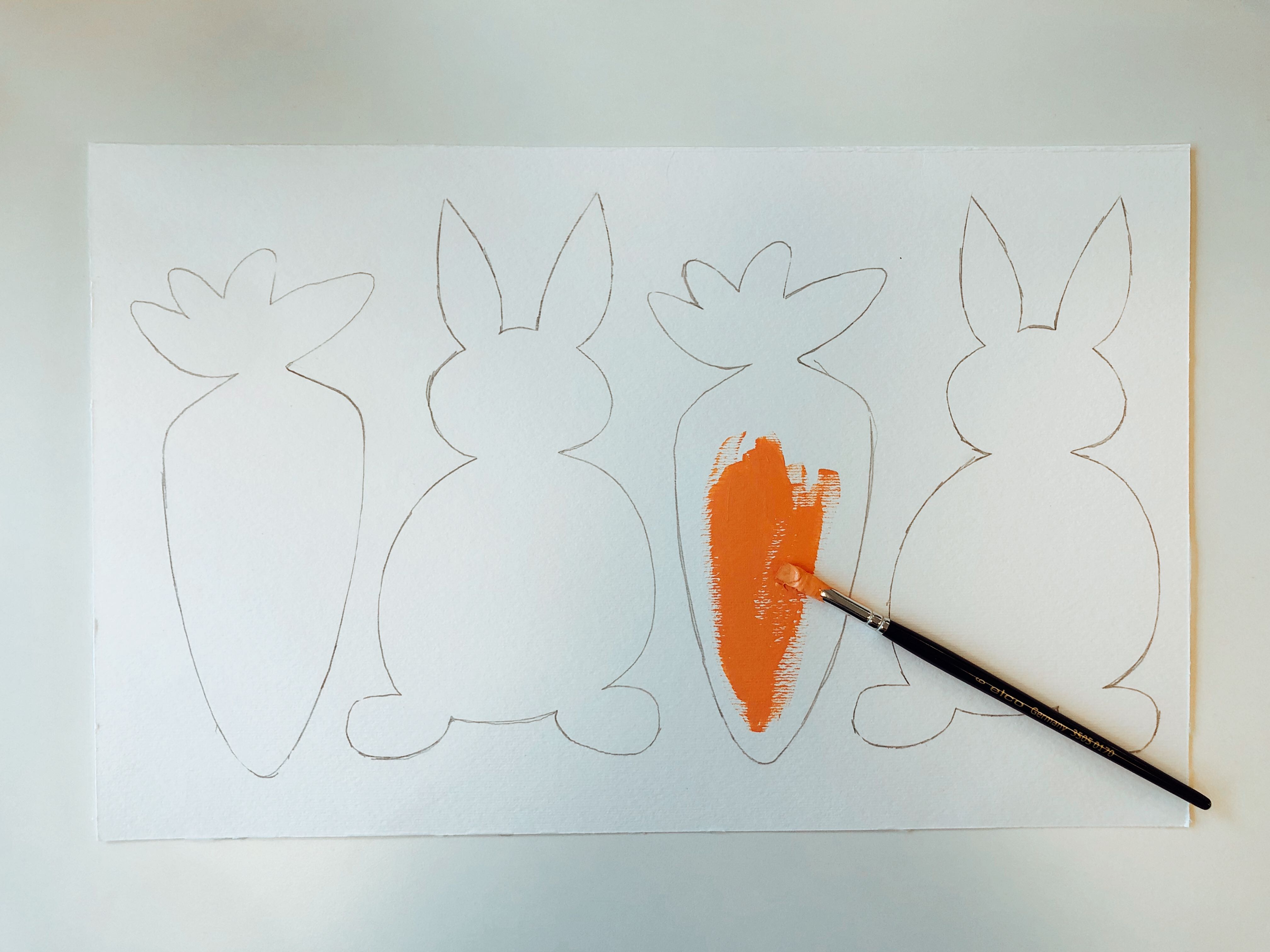 Ta-dah! Here's how your designs could be looking once you've added some colour to them. We decided to stick with realistic colours for our carrots but opted for light blue bunnies. If you're creating our Easter bunting DIY with kids, they might want to turn up the creativity a few notches and create some purple spotted carrots or rainbow bunnies!
Next on the agenda, we're going to cut out our carrot and bunny designs and then use a hole punch to create two holes in each design. Tip: If you don't have a hole punch, you can use a pin and a skewer to create holes (but you should always ask a parent or adult to do this for you!).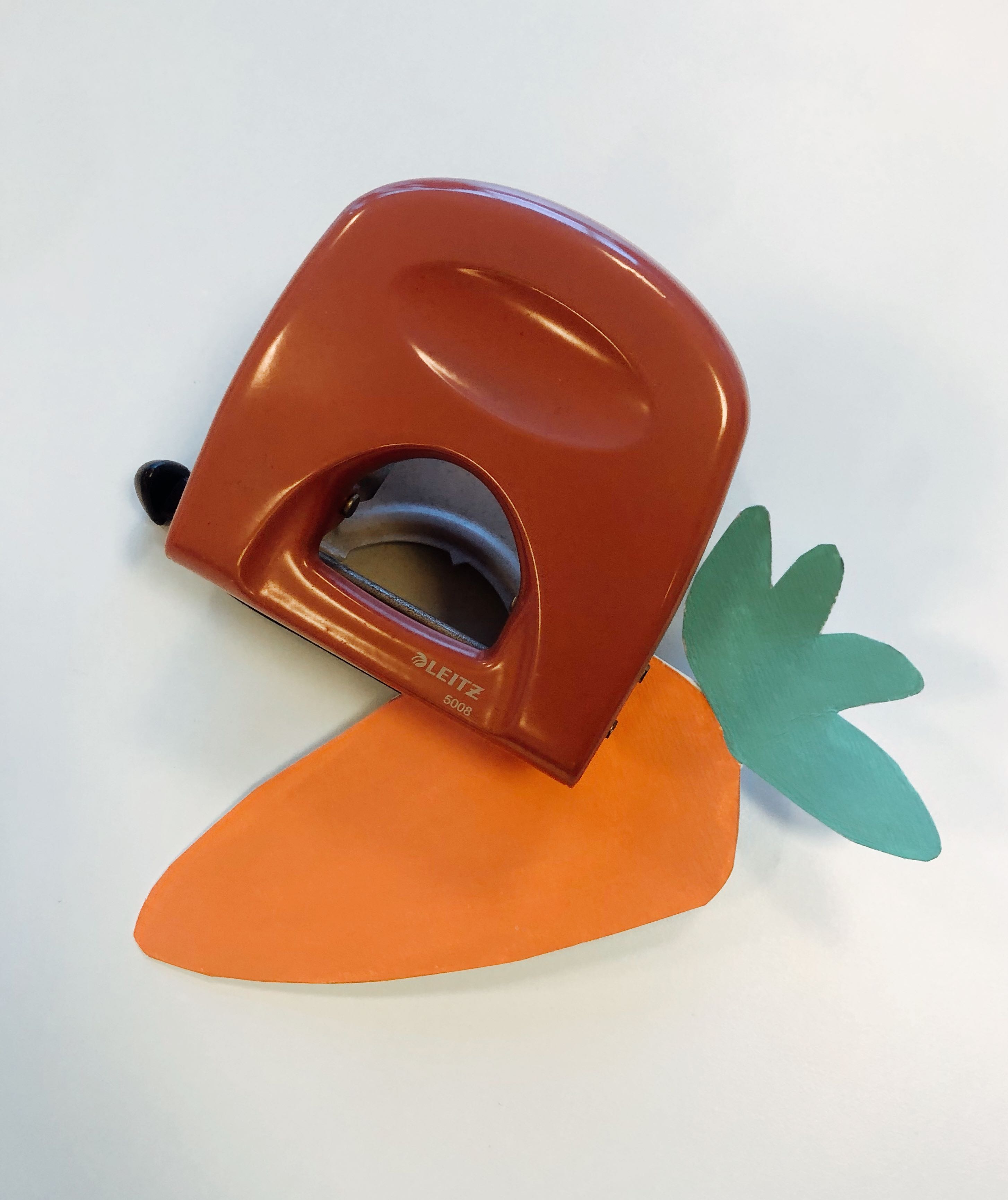 And now for the finishing detail: adding the fluffy bunny tails! We used medium-sized white pom poms and all-purpose quick-drying glue to stick the tails in place. Tip: If you don't have any pom poms at home, why not use some string to tie a bow around their necks instead?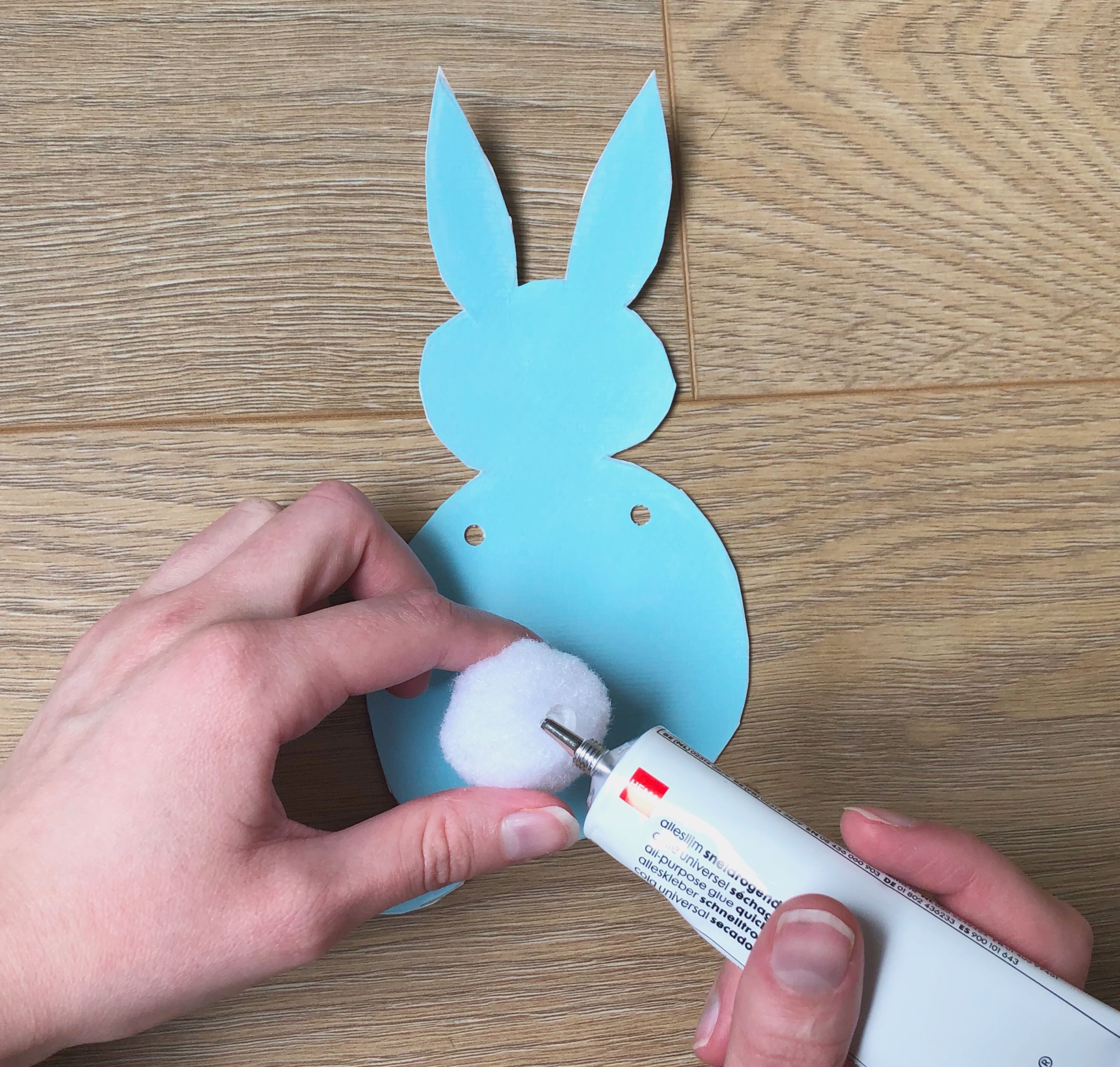 We're nearly there! For this step, you're going to need some string (or ribbon) and a pair of scissors. I laid my bunnies and carrots out and measured the length of string I'd need (approx. 1 metre). Keep in mind that you might want to tie a loop at either end of the string so that you can easily hang your bunting over curtain rails, door knobs etc. (so leave an extra length of 30cm or so). To keep the designs in place, I wrapped the string through and around each of the holes to avoid them sliding around.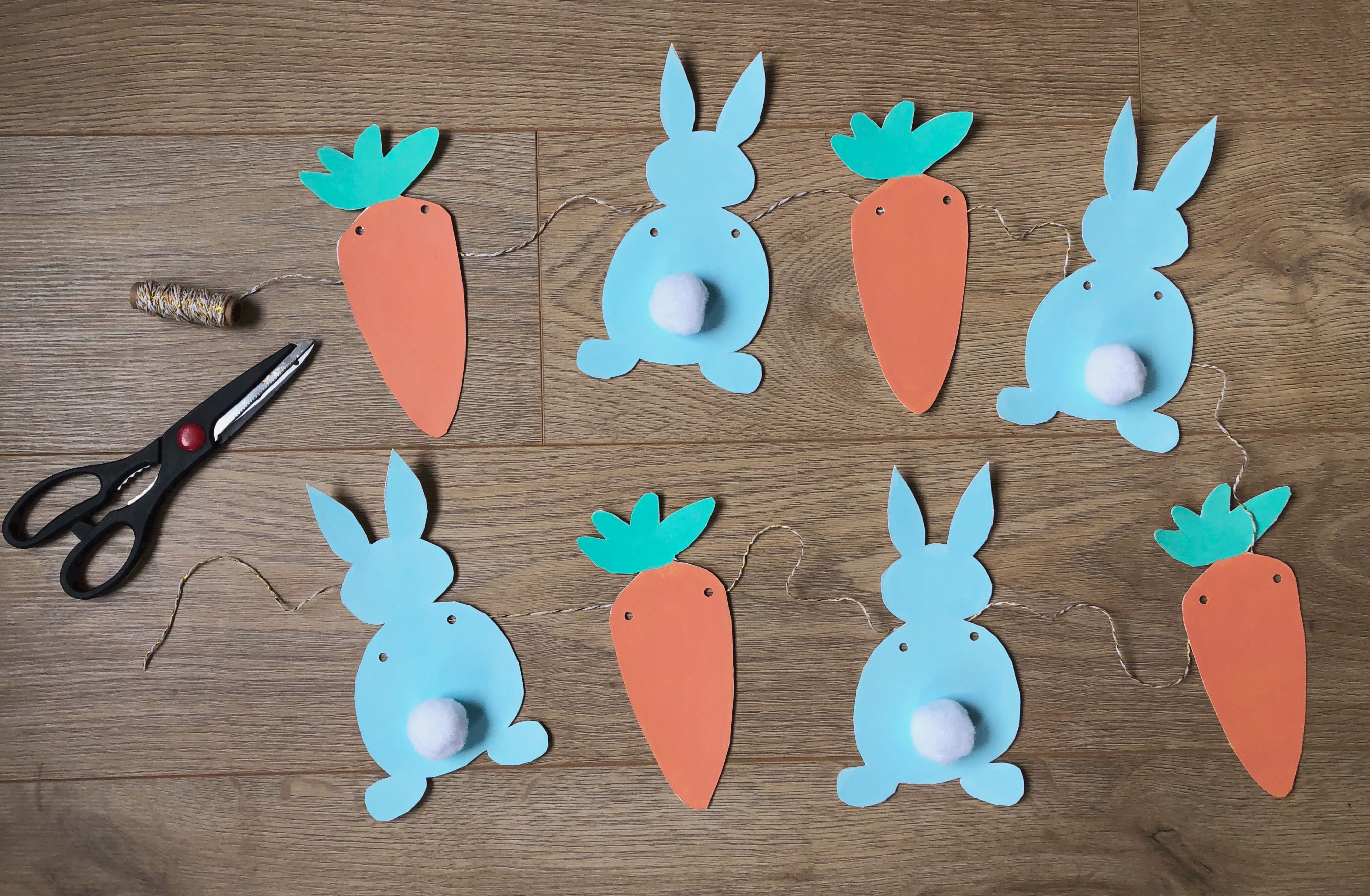 Good work! Now you've created your very own DIY Easter decoration for the holiday season. Why spend money on Easter decorations when you can make them at home and have fun with the kids at the same time?
You can hang your Easter bunting along a curtain rod, around the railings of a staircase, over a bookshelf or hall stand… you get the idea!
A Handmade Easter bunting would also make a fabulous gift for friends and family. Perhaps your kids would like to wrap them up and give them out as gifts along with some chocolates?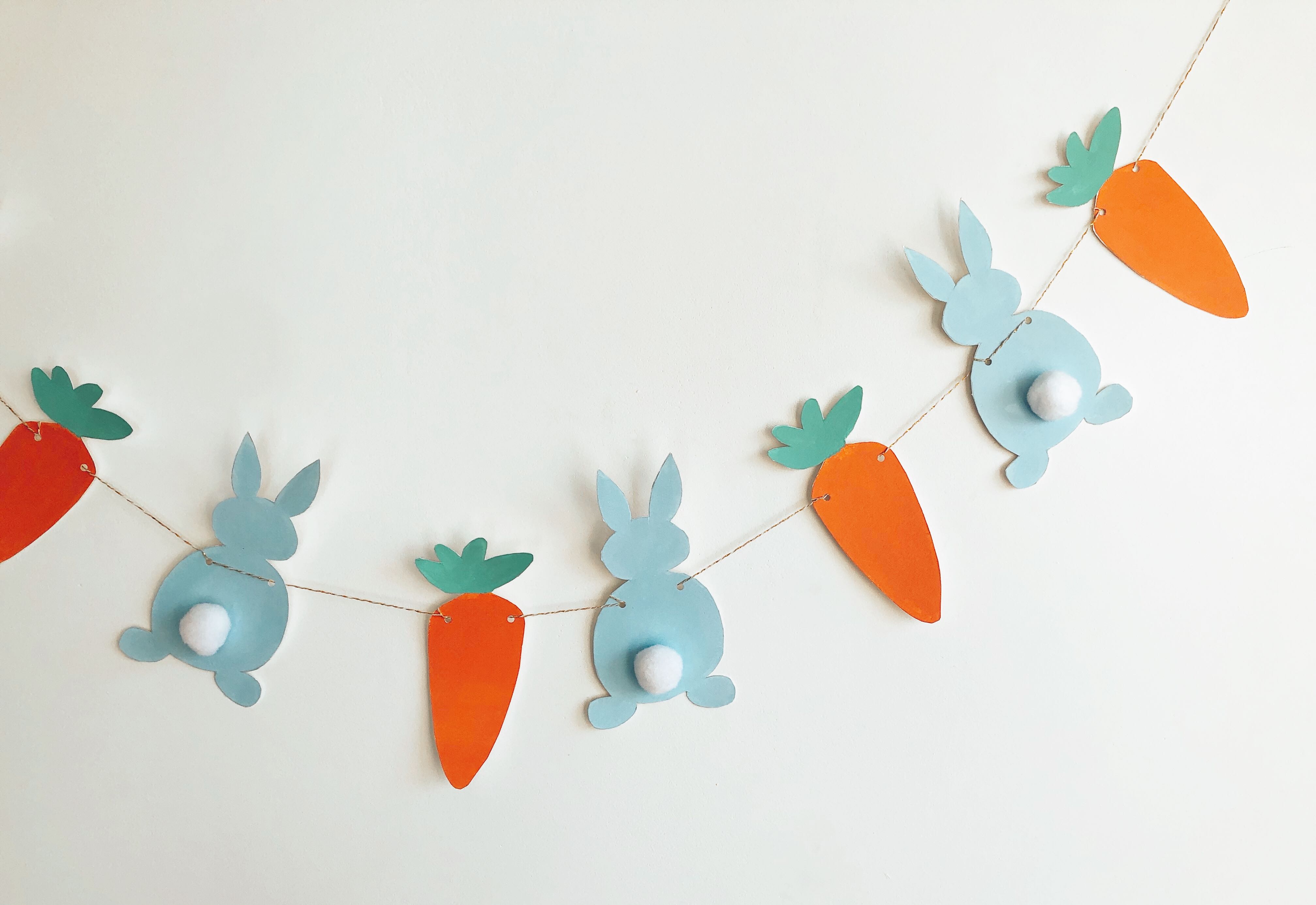 ---
We hope you enjoyed following along with this DIY. Be sure to check out our other DIYs for more inspiration here.
We'd LOVE to see your Easter bunting designs! Tag @babysits to share your designs with us.